Who are Southern Mountain Adventures?
We are a family run enterprise based in Wanaka, New Zealand. Join Croc Adams, owner and guide, in an unforgettable hunting experience in the heart of New Zealands' Southern Alps.
---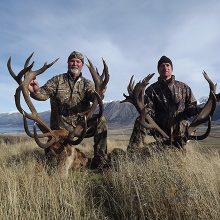 Our Packages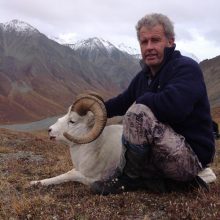 Your Guide
Croc
offers over forty years of hunting experience that ensures a satisfying and thrilling hunt. His aim is to ensure you get the trophy you have always dreamed of whilst having an unforgettable experience in NZs stunning high country.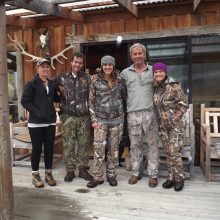 Testimonials
We strive to make your experience all that you hoped it would be. We have an abundance of happy customers willing to vouch for our offering.
Read some testimonials
 from some happy customers.
Your Guide
David (Croc) Adams, owner and guide for Southern Mountain Adventures, has a true passion for hunting and over 40 years of experience hunting the high country of New Zealands South Island. From Wallaby shooting and Deer culling in the 1970's to setting up Southern Mountain Adventures in 1993 to hunt the Deer, Chamois and Tahr of the South Island. He has a reputation for providing hunters with a rewarding and memorable hunt among some of the most magnificent trophy animals and scenery New Zealand has to offer.
Croc's passion for hunting has not only made him a successful guide in New Zealand but has taken him abroad to hunt in Australia, Canada and the USA with clients who have become his good friends. His aim is to help you find and shoot the trophy animal you have always dreamed of while having a good laugh along the way.
Croc is there to ensure you have an enjoyable and successful hunt with the ultimate goal being your trophy head. Croc will not only guide you through the day to day hunt but meet you at the airport and arrange your transport, accommodation and meals on the mountain as well as assist with flying your prize trophy back home again.
---
Testimonials
Having travelled the world hunting, in April of 2008 and 2009 I hunted with David (Croc) Adams of Southern Mountain Adventures, Wanaka, New Zealand, for Tahr, Fallow Deer and Red Stag with each hunt being successful. Free time was spent landing 10 pound Rainbow Trout in the streams stretching the length of the 140,000 acre hunting ranch.

I found Croc to be one of the finest guides I have ever booked with, I found his word to be his bond, and his hand shake a contract. The accommodations were excellent, the scenery is breath taking with the flowing river and beautiful mountains surrounding the valley. I left feeling that I had been with family and you can rest assured this hunter will be booking another hunt with Croc Adams.

Staying in the cabin on the paddock was very surreal. You can hear the water on the river. I have never seen the stars so Bright and Clear. Eating the local foods was very special experience for my palate.

Climbing the mountains to kill a Tahr was a lifetime experience. It was a challenge, but worth the effort. The Red Stag is a majestic animal, similar to the Elk, but are known to have Tremendous tops with Mega Points. I was in awe with the scenery the whole hike.

I would recommend this trip for anyone that to get away form it all. The comradery with fellow hunters and with the guides will be moments to cherish.

It was nice to relax and be yourself with people with a good since of humor.

Hope to get to go again soon!

I have hunted around the world and cannot say enough good things about the Tahr hunt I so enjoyed with Croc. Croc takes care of every detail of the hunt and he knows where to find the trophies!

If you want to hunt New Zealand for Tahr, Chamois or Red Stags you will not go wrong with Croc Adams, Southern Mountain Adventures New Zealand. I am headed back in 2017 for Chamois.

I would also ask you support Croc as he is an annual donor to both the National Wild Sheep Society and the Idaho Wild Sheep Society helping us to put & keep sheep on the mountain!

I saw more Bull Tahr with Croc Adams than I ever saw sheep on my 10 day hunt in North America. It was an easy adventure with fabulous scenery. Thanks again Croc

Thanks for an incredible experience, everything from scenery to the hunting to the camaraderie. I definitely recommend the experience

I hunted with Croc for Tahr and Chamois and had a fantastic hunt taking both animals and seeing many more every day. Fantastic experience.

I had the pleasure of hunting with Croc and Southern Mountain Adventures. The hunt was far beyond my expectations, with the hospitality and expertise that Croc showed the quality and abundance of game was second to none. I believe the South Island of New Zealand is one of the most special places in the world. I was able to harvest two quality animals and was introduced to some of the nicest people I have ever met. I cant wait to get back!

Best hunt I ever had and the guiding was outstanding.
Enquire about your New Zealand hunt.
Complete the details below and we will respond as quickly as possible.